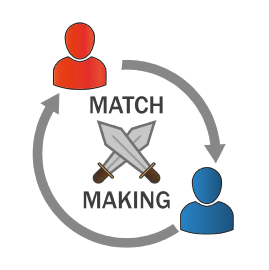 The matchmaking in Basketrio is so bad! Why does it keep giving me teammates that doesn't even know how to play the game? When I say "don't know how to play the game" I mean people who plays like they just downloaded the game minutes ago and have no idea what's going on. I thought I am high enough in ranking where these types of players shouldn't be matched with me anymore. A scary thought is they got to higher rank playing like that... 😱 I'm convinced a lot of these players don't even know what the sport of basketball is.
Sometimes I can just look at your character name and can tell what kind of player you are:
Players that have a name generated by the game, C. L. Max or something like that, 95% of them are bad.
Players with names such as: KobeSwish, Lebron23James, IDunkOnYou, etc... 95% of them are bad.
Players with racist names? 100% should be banned.
If they don't have a name like what I mentioned above, it only takes a few possessions for me to tell how good of a player they are.
How do they defend? If they spam steal, constantly leave their mark open, chase the ball, etc... a bad player will have bad defense.
When I pass them the ball what do they do? If they're open but still spam action dribble/drive and wasted a good opportunity, don't pass when they're double-teamed, going in for a layup against a C/PF, etc... it's easy to tell how good someone is by the way they handle the ball.
How good is their game sense? Do they know how to play without the ball? Are they reading the movements on the court?
If you keep spamming "PASS ME THE BALL", I automatically think you suck.